Bruce Campbell Adamson PO Box 1003 Aptos, CA 95001-1003
By Bruce Campbell Adamson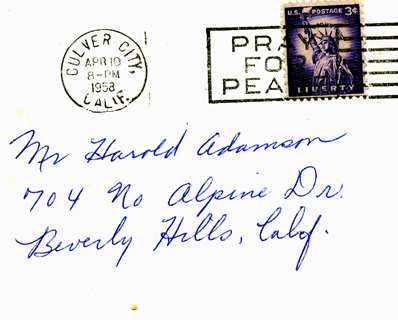 HAROLD ADAMSON - ELIZABETH TAYLOR - MICHAEL TODD
In 1946, Harold Adamson wrote one of Elizabeth Taylor's first songs: "It's a Most Unusual Day" for the film A Date With Judy. Elizabeth sung her first song when she was 15 years old, the year before Hal wrote the lyrics when she was 16."Taylor was the prettiest 16 year-old I ever seen," wrote Robert Stack. While it was one of Elizabeth's first songs, it was Wallace Beery's last. Others who chimed in the filming were Carmen Miranda, Xavier Cugat and Jane Powell delivered perfection in It's A Most Unusuaal Day:
Lyrics by Harold Adamson
It's a most unusual day
Feel like throwing my worries away
As an old native-born Californian would say
It's a most unusual day
There's a most unusual sky
Not a sign of a cloud passing by
And if I want to sing, throw my heart in the ring
It's a most unusual day
There are people meeting people
There is sunshine everywhere
There are people greeting people
And a feeling of spring in the air
It's a most unusual time
I keep feeling my temperature climb
If my heart won't behave in the usual way
Well, there's only one thing to say
It's a most unusual day
There are people meeting people
There is sunshine everywhere
There are people greeting people
And a feeling of spring in the air

As a child I had many visits to my Uncle and Aunt Gretchen's home at 704 N. Alpine Dr. during the holiday seasons. I was almost three years old when Elizabeth addressed the letter to uncle Harold. My father Douglas Adamson (Hal's brother) told me when he was a real estate broker in Beverly Hills that he took Elizabeth Taylor to look at open houses. In one of the homes he cooked her breakfast. Their office was Adamson & Hupp.
Ten years later (after Hal's song for Elizabeth), Michael Todd approached Harold to write the lyrics for the film Around the World in 80 Days. This film won an Oscar for Best Picture in 1957. This film received eight Oscar nominations and won five out of the eight. Victor Young was making movie history when he received his twenty-second Oscar nomination in a row. No other person has had more nominations in a row. Young won an Oscar at the Academy Awards, sadly he died six months earlier in Palm Springs of a heart attack. Frank Sinatra's Around the World, was surely had to be one of the best known versions of the song. Billy Mays said that Frank's vversion "was the best ballad on the album."
Photograph of George Jessel, Harold Adamson, Michael Todd, Jimmy McHugh and Cantiflas.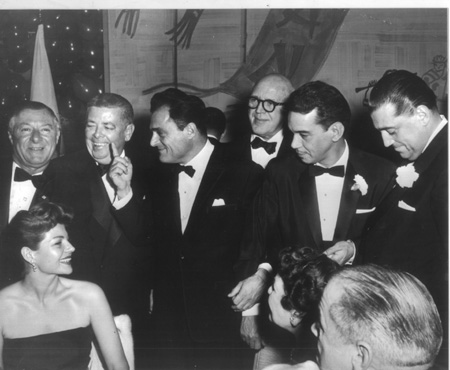 Lyrics by Harold Adamson
Around the World in 80 Days

Around the world I've searched for you,
I traveled on when hope was gone to keep a rendezvous.
I knew somewhere, sometime, somehow,
you'd look at me and I would see the smile you're smiling now.
It might have been in County Down,
or in New York, in Gay Paree, or even London Town.
No more will I go all around the world,
for I have found my world in you.
Harold Adamson could not be nominated for a Oscar for he wrote the lyrics for Michael Todd two weeks before the Academy Award ceremonies. All the votes were in. Yet, Hal wrote the words for Around the World about March 14, 1957. Two weeks later it was Oscar night and two weeks earlier Elizabeth Taylor and Michael Todd were married. It is not far fetched to ask the question: "Could Taylor have played a role in selecting Harold as the lyricist for Michael Todd's Around the World in 80 Days?"
On February 27, 1957, Michael Todd married Elizabeth Taylor.
On August 6, 1957, Elizabeth Frances (Liza) Todd was born. Sitting on top of the world, happily married, tragedy hit on March 22, 1958, flying in his plane Lucky Liz Michael Todd crashed near Grants, New Mexico. All on aboard were killed.
Todd described the plane as safe as he phoned friends, including Joseph Mankiewicz and Kirk Douglas, in an attempt to recruit a gin rummy player for the flight: "Ah, c'mon," he said. "It's a good, safe plane. I wouldn't let it crash. I'm taking along a picture of Elizabeth, and I wouldn't let anything happen to her. Mrs. Hal Adamson, "Gretchen," also was asked to take the flight with Todd, but refused to attend the party they were throwing in New York City for Todd. Gretchen said that she had her 'one and only fight''with Hal.
A year later in 1959, I lost my mother Nancy Kissam Ely-Adamson. It was Gretchen who replaced Nancy as my part-time mom. Had Gretchen been on the plane with Michael Todd, I can tell you truthfully, that I would not be here today. For she treated me like a son. I was Gretchen's caregiver at age 89 in 2002 when she passed. Woops! Gretchen always told me 'a true lady will never tell her age.'
It is difficult to imagine that the plane could have carried so many people on it. For Elizabeth Taylor refused to take the flight because she began her role in the filming of "Cat on a Hot Tin Roof."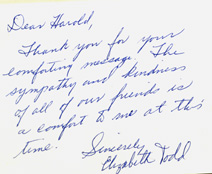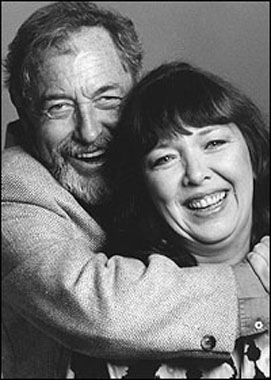 Ironically, Harold's daughter "Eve" became a Director Off-Broadway at The Jean Cocteau Repertory and directed the "best version of Cat on a Hot Tin Roof," said Tennessee Williams.
Elizabeth Taylor wrote on April 10, 1958: "Dear Harold, Thank you for your comforting message. The sympathy and kindness of all of our friends is a comfort to me at this time. Sincerely Elizabeth Todd." Elizabeth Taylor was back on the set four days later on April 14, 1958, to finish Cat on a Hot Tin Roof. This is one of her greatest performances after having suffered such a loss.
Photograph of Tennessee Williams and Eve Adamson.
On the reverse side of the personal stationary there is a line through the name Mrs. Michael Todd. This was the only marriage that Elizabeth Taylor entered which did not end in divorce. Many have suggested that this was Elizabeth Taylor's one and only true love. Included in the letter is a short note from Michael Todd, where the personalized stationary reads "Elizabeth and Michael Todd." Address to Gretchen and Harold; "Liza, says Thank You. She is doing nicely as is her mother and Dad. Liz and Mike." It is in Michael Todd's handwriting. It had to have been one of his last notes. Gretchen was one to give us lots of gifts at Christmas time. It would not surprise me that Michael Todd was thanking Gretchen and Hal for a Christmas gift.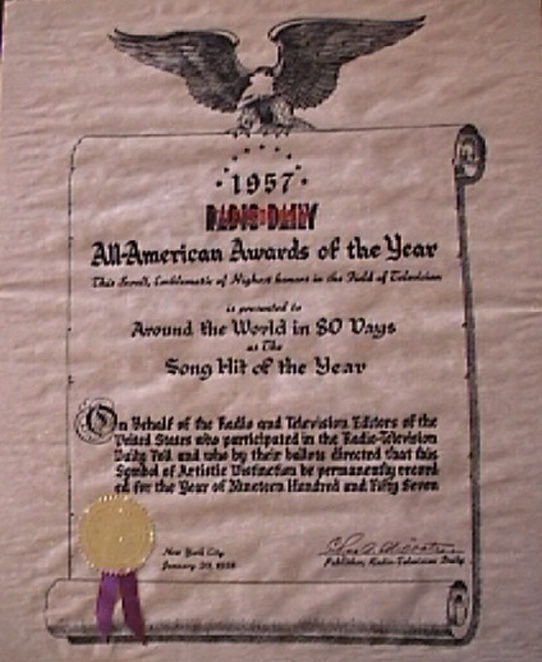 One would like to believe that Harold Adamson wrote the lyrics for Around the World in 80 Days, especially for Michael Todd and Elizabeth Taylor. The TV and Radio Producers of America voted Hal's Around the World in 80 Days 'Hit Song of the Year.'
An interesting footnote: Is that Hal's father, James Harold Adamson was written up in Dale Carnegie's book How To Win Friend's and Influence People. Three pages were dedicated to James and his friendship with George Eastman. Eastman was one of the co-founders of the Motion Picture Industry. George Eastman invented motion picture film and Edison the sound.