Bruce Campbell Adamson PO Box 1003 Aptos, CA 95001-1003
Golden Showers from MI6 agent spoof --}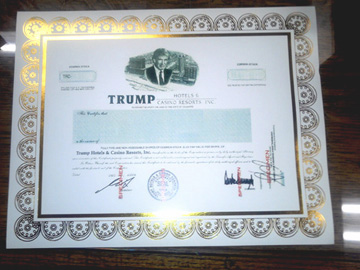 TRUMP HOTELS ltd is a front for the Central Intelligence Agency.
No way Bush Sr. would have considered DT if he was not with CIA. Now half the US is having dt's.
THE DEVIL IS IN THE DETAILS --- CHRISTIAN RIGHT SUPPORTS ANTI-CHRIST and have children with PORN STARS - Sorry Stormy
BUY a PRESIDENTIAL MOMENTO on Donald Trump Trump said that "the 2nd Amendment folks would take care of Hillary" --- Those 2nd Amendment Folks, an 18 year old, took care of 17 students in Parkland, Florida.
I can understand why Donald Trump wants to have a good relationship with Russia. We surely don't want to be in a war with them. They are equal to USA in nuclear weapons and if North Korea has the ability to start a fight we want the Russians to be quick to stop it. Radioactivity has a half life time of 45,000 years. No one wants to see an all out nuclear war. The human race should not kill all animal and plant life if it can not live on earth peacefully. While on the day Trump fired Comey he is with Russians in back room at the White House.
TRUMP is a CIA LEGEND developed in 1988 when Bush Sr. ran for President.
Yet, DONALD TRUMP's FIRING OF James Comey the FBI DIRECTOR was a HOAX ----
--------------------------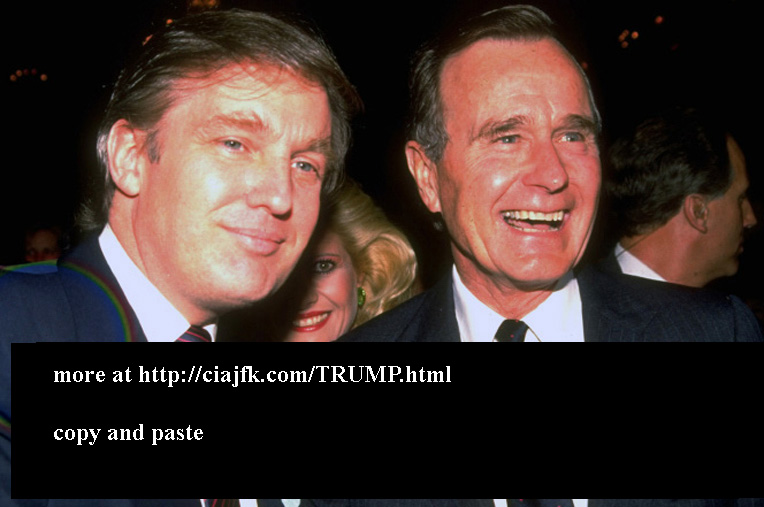 TRUMP vs Anthony Weiner
FBI DiRECTOR COMEY gave Donald Trump Eleven Days to collect Absentee ballots. Everyone does not have to support a cheat. As a federal whistleblower I believe that one should look at Rudy Guiliani's emails which will show US how he and Donald Trump knew of the FBI Director's intention to smear Hillary Clinton to collect Absentee ballotts and others before the end of the ele
A CELESTRIAL CLOCK -- DEMOCRATS CAN BLOCK TRUMP' in the SENATE for a vote of 60 is needed.
A man died and went to Heaven. As he stood in front of the Pearly Gates, he saw a huge wall of clocks behind him. He asked, "What are all those clocks for?"
St. Peter answered, "Those are Lie-Clocks. Everyone who has ever been on earth has a Lie-Clock. Every time you lie, the hands on your clock move."
"Oh", said the man. "Whose clock is that?"
"That's Mother Teresa's", replied St. Peter. "The hands have never moved, indicating that she never told a lie."
"Incredible", said the man. "And whose clock is that one?"
St. Peter responded, "That's Abraham Lincoln's clock. The hands have moved twice, telling us that Abraham told only two lies in his entire life."
"Where's Donald Trump's clock?" asked the man.
St. Peter replied, "We're using it as a ceiling fan."
READ ON for the Ethics of a CROOK.
********************************************************************************
Researching Jeffrey Epstein and Donald Trump on Wikipedia you won't find Hillary Clinton Emails
yet, you will find the following on :
Another woman, identified by the pseudonym "Katie Johnson",[41] filed a lawsuit in California federal court on April 26, 2016, accusing Epstein and real estate businessman Donald Trump (now President of the United States) of raping her in 1994, when she was 13 years old.[42][43][44] At the time of filing, Trump was campaigning to become the Republican Party candidate for the office of U.S. President. Judges Ronnie Abrams and James C. Francis IV presided over the case against Epstein and Trump.[45]
The suit, which Johnson had filed without counsel, was dismissed on technical grounds after the court determined that the address listed for "Katie Johnson" was a foreclosed abandoned home whose resident had died and the provided telephone contact information was also not a functioning contact.[42] The woman (now using the pseudonym "Jane Doe") filed a new lawsuit in June 2016, this time in the U.S. District Court for the Southern District of New York. She excluded some of her previous accusations, such as that Trump threw money for an abortion at her and that he called Epstein a "Jew bastard".[46]
Following a delay caused by the accuser failing to show that the defendants had been served with formal notice of the suit,[47] the suit was voluntarily dismissed on September 16.[48] The woman's lawyer said she would re-file the lawsuit and would provide an additional witness to substantiate the claims.[49]
On September 30, 2016, the woman re-filed the lawsuit in New York, with an additional witness identified by the pseudonym "Joan Doe".[50][51] There was no further information available on the allegations outside the claims made anonymously by the two women. They were not made available for contact by the press.[42] Civil rights lawyer and legal analyst Lisa Bloom (Gloria Allred's daughter) wrote in a June 2016 blog post for the Huffington Post that the claims by the anonymous individuals were credible enough to warrant further investigation.[44] Journalist Jon Swaine reported in The Guardian in July 2016 that the "Katie Johnson" lawsuits appeared to be orchestrated by Norm Lubow, a former producer on The Jerry Springer Show. He described Lubow as "an eccentric anti-Trump campaigner with a record of making outlandish claims about celebrities".[52]
The woman failed to appear at a press conference announced by her attorneys, saying she was fearful because of threats. She granted an interview to The Daily Mail together with Bloom (whom the Daily Mail identified as her lawyer) and permitted photographs. Soon after that, the woman dropped her lawsuit against Epstein and Trump on November 4, 2016.[41][53][54] The Daily Mail said their reporters were aware of the woman's identity but were honoring her request to protect her privacy and not release her name. Her attorneys said the woman dropped her suit out of fear, based on having received "numerous threats" against her life.[41]
In March 2017, some sources reported that President Donald Trump had been called as a witness in a new case against Epstein.
********************************************************************************
Eleven Days of Absentee Votes to be submitted under FBI Director Comey's --
Visit here for JEB's friendly ties to Trump - WAS feud a FRAUD ?----}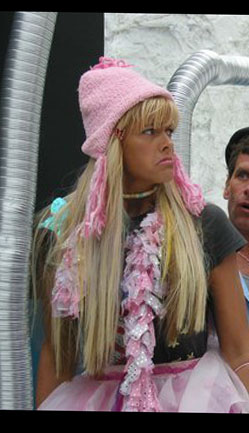 Rudy Giuliani, the former mayor added that everyone he does talk to in the FBI is a former agent.
Blitzer reminded Giuliani that in an October 28 interview on "The Lars Larson Show," the former mayor said he was in contact with former agents "and a few active agents, who obviously don't want to identify themselves." When FBI Director Comey said he was "reopening the Hillary Clinton email case...." he allowed eleven (11) days to citizens to send in Absentee Votes for Donald Trump. This made the difference in "Rigged Election" of 2016.
Donald Trump and Anna Nicole Smith of the CIA? Trump thanked Anthony Weiner for exposing himself as this will forgive his own perverted behavior, when his friends the FBI opened a case against Hillary. Cloud of suspicion caused the election to be "RIGGED." Millions of Absentee Votes and Voters switch within eleven days
Visit here for Bush-Trump ticket and Bush CIA ties to JFK Assassination----}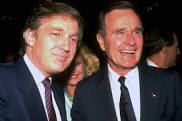 CIA AGENTS do not HAVE TO REVEAL IRS FILES -- NATIONAL SECURITY - DONALD IS VETTED while he SUGGESTS BREAKING US LAWS ----- KUDO's to GEORGE H. W.Bush for saying he will vote for Hillary. Why would Bush family throw Trump under the Bus, while son of Jeb Bush is working for Donald?
THE ELECTIONS ARE RIGGED ---- TRUMP has been interested in JFK's demise for past 20 years.
No TAXES yet TRUMP gets SECRET SERVICE PROTECTION his own Regiment --- no more hiring of bodyguards.
https://www.washingtonpost.com/news/the-fix/wp/2016/04/01/former-irs-commissioner-trump-could-release-his-old-tax-returns-if-he-wanted-to/
Why is it important that Mrs. Donald Trump was raised as a Communist?
1). Trump's stance on immigration why should he take a different stance on Candians and Europeans?
2). Does the GOP want a First Lady Communist? Why?
3). Mrs. Trump's father visits the Trump's in NYC and so will they be visiting the White House? . Search on the internet for Trump's Communist Father-in-law and his communist ties.
4). Could this be the real reason Trump is friendly with Putin and has Russian investors? Russians admit to to hacing USA voting as of October 7th, 2016, poliltical hacking.
Am sure you can think of more reasons. Why would Law Enforcement support a man who says he "I can walk across the street and shoot someone and still get elected," If they want law and encorcement?
Trump said he would pay for counsel for the culprits who assaulted people at his demonstrations. Where is the law and endforcement?
Trump also said that the 2nd Amendment folks would take care of Hillary -- Talking of treason before the election.
One person who did end up dead was Trump's bodyguard, allegedly was having an affair with Trump's second wife. It has everything to do with Trump's drug dead bodyguard. Mrs. Spencer Wagner blames Mrs. Donald Trump Marla Maples for her husband's death Was Spencer Wagner- death a suicide or murder? ---
Visit here for Donald Trump's deadguard Spencer Wagner- suicide or murder? --- Let US talk about Bill Clinton's affairs and Trump before the election. }
Did Trump kill kill his body guard by firing him ?------Remember Trump's words "I could walk across street and kill someone and still get elected-." -- You're Fired came from Trump's NBC TV show Apprentice and gave Trump unlimited free publicty-- A Trump in Palm Beach said 20 years ago that Trump was interested in JFK's assassination; Trump and his third wife named their son "Baron" a title CIA agent George de Mohrenschildt in Palm Beach; Trump and De Mohrenschildt had association to George H. W. Bush --- more at lnk}
Trump's son "Baron" is a well behave young man. He should not be exposed to mass-Ego's.
1). IT's A MAD, MAD, MAD, MAD WORLD --- DONALD TRUMP and his FAMILY COMMUNIST TIES -- "Valdimir Putin is a Good Guy," Donald Trump. Was his wife or father-in-law arming the faction that shot down a regiment of US Army Generals, Secretary of Commerce Ron Brown and White House Intern Adam Darling of Santa Cruz, CA. A Boeing 737 military jet crashes into a mountain north of Dubrovnik, Croatia. All 35 people on board die, including United States Secretary of Commerce Ron Brown (see 1996 Croatia USAF CT-43 crash)..http://www.nytimes.com/1996/04/28/world/deadly-flight-special-report-crash-that-killed-brown-signs-safety-shortcomings.html?pagewanted=all
THE LA TIMES REPORTED in WASHINGTON - The Air Force announced Tuesday that it has meted out punishments to 16 officers, including formal reprimands to a general and a colonel, for dereliction of duty in connection with the April 3 plane crash in Croatia that killed Commerce Secretary Ronald H. Brown. The move, ordered by Gen. Michael Ryan, commander of U.S. air forces in Europe, followed preliminary steps in May in which the two senior officers and another colonel were relieved of command in the wake of the accident in which Brown and 34 others died. The unusual public announcement was part of an effort by Gen. Ronald R. Fogleman, the Air Force chief of staff, to hold officers publicly accountable for actions that involve negligence. Such punishments usually are kept confidential under privacy laws.An accompanying statement said that despite the usual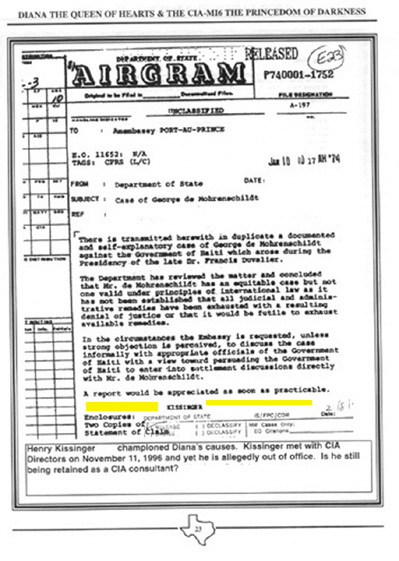 privacy concerns, the Air Force was releasing the names of the four most-senior officers involved "in light of the substantial public interest."
2). Meets with family friend of de Mohrenschildt's on May 18, 2016, --- HENRY KISSINGER - de Mohrenschildt was Lee Harvey Oswald's closest friend. Convicted without a trial. Yet Trump calls Oswald "assassin. A lot said about Cruz's Dad, yet nothing about Bush or Kissinger's ties to JFK's demise. Bush was also tied to Hinckley family; Bush's telephone number was found on Barry Seal after he was shot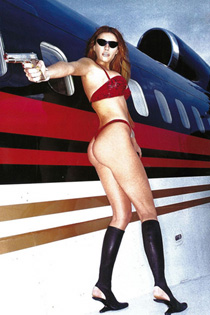 SEE COMMIE FIRST LADY TRUMP/ COULD SHE SHOOT DOWN PLANES WITH DAD as a Young Lady? 21 US American Generals and TOP BRASS were killed.
http://www.aol.com/article/2016/05/18/donald-trump-meets-with-henry-kissinger-on-foreign-policy/21379799/
3). Trump says Ted Cruz's dad was involved in setting up Oswald. Donald Trump has been interested in the JFK Assassination for some time. A person I knew well for over 20 years told me this from Palm Beach who worked for Trump. Trump is suggesting that Cruz's dad had been photographed with Oswald in New Orleans. Bush Sr. knew Oswald's CIA handler as letter shows at bottom of page (since 1942); and Cruz worked on the 2000 George W. Bush campaign election. Visit here for more on Ted Cruz's dad. Visit here for research on Ted Cruz's dad. I don't buy it, even though it may be him in Photograph, author calls Oswald "assassin." Brainwashed for Oswald never had trial, it should be "alleged assassin." So what he was photographed with Oswald --- there is more incriminating evidence on Bush/de Mohrenschildt and Trump in Palm Beach.
4). Trump says he can shoot someone and still get elected so what about JFK?:
http://www.cnn.com/2016/01/23/politics/donald-trump-shoot-somebody-support/
5). Trump says he will build wall along border of Mexico :
http://www.theatlantic.com/international/archive/2016/04/trump-wall-mexico-foreign-policy/475581/
6). Trump will band all muslims;
http://www.cnn.com/2015/12/07/politics/donald-trump-muslim-ban-immigration/
7). Trump does not know anything about Ku Klux Klan just before Southern elections and wins those Southern states;
http://www.npr.org/sections/thetwo-way/2016/02/28/468455028/trump-wont-condemn-kkk-says-he-knows-nothing-about-white-supremacists
8). Trump attacked Roe vs. Wade, women and doctors will be punished.
http://www.lifenews.com/2016/02/18/donald-trump-roe-v-wade-was-wrongly-decided-i-will-appoint-judges-to-change-it/
9). Trump attacks Fox News reporter Meg Kelly, who works for Rupert Murdoch. Murdoch was found hacking telephones in USA and in England, "It's no big deal," so he says. http://abcnews.go.com/Politics/history-donald-trump-megyn-kelly-feud/story?id=36526503
10). News stations give Trump special treatment and free publicity NBC, CNN, CBS. CBS's fo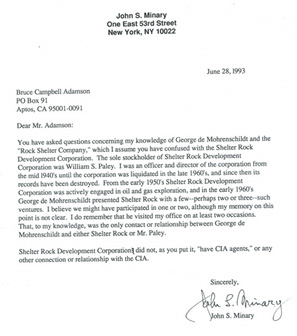 rmer owner Wm. S. Paley admitted allowing CIA agents who posed as CBS newscasters. Paley employed Oswald's pal, de Mohrenschildt.
11). Donald Trump may be banned from England?
http://www.cnn.com/2016/01/18/politics/donald-trump-uk-united-kingdom-ban/
12). In 1980s Trump is considered as a Vice President candidate for George H. W. Bush; was the entire episode of Jeb Bush staged?
http://www.theatlantic.com/politics/archive/2016/01/the-decade-when-donald-trump-became-a-celebrity/422838/
13). Trump's ex-wife Marla Maples says Donald Trump acted as owned PR agent "John Miller." Trump admitted it now denys it. What would he do if he is in charge of CIA?
http://www.nydailynews.com/news/national/trump-publicist-john-miller-sounds-1991-interview-article-1.2635927
Confusing election process. In 1980s Trump was considered as a Vice-President candidate for George H. W. Bush, Sr. In 2004 Donald Trump videotaped Adamson for the TV show on NBC Apprentice, at the same time when Adamson appeared on Coast to Coast with George Noory. Adamson told Trump that his mom's grandpa built the largest hotel in the world, 1894 The Astoria and a great grandpa-by-marriage had built the largest hotel in the world in 1894 The Waldorf. Trump could not afford to build these hotels today, because of the quality of art, materials that went into them. Before there was the Trump's, the largest real estate owners in New York City were The Astors!. Adamson had four great grandfathers who were attorneys, trustees of the Astor Estate. The next FIRST LADY who was raised as a Communist?